Introducing the megaFilter
Today we have rolled out paintRack v1.22. With this update we have released:
Support for Green Stuff World
Support for Liquitex
Many new paints for Reaper, AK Interactive, and Mission Models
As well, this includes the optional feature of showing explicit CIEDE2000 color distances (calculated from the expected color to the bottle color). In Color Tools there is now a button on the action bar which will allow you to see the values float above the paint circles so you can get an idea of how close bottle is to the calculated color.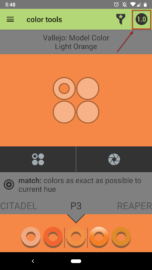 Most importantly, though, is the introduction of megaFilter. This is a right-side drawer available in Library and Color Tools that lets you filter out both manufacturer sub-lines and bottle sizes. As well, you can turn off specific bottle types (I only want to see Metallics, etc.) across all manufacturers.
To open the drawer, click the filter icon on the action bar. Scroll through and click on the expandable arrows to see the options available to you. Checked boxes are enabled and unchecked are disabled.
If you want to temporarily shut off all filters to see if you can find that missing bottle you expect, simply uncheck the megaFilter button at the top of the drawer and the filters you've selected will be disabled.
Since pretty much day 1 of the paintRack original release there have been a couple of common requests. First, a lot of users use Vallejo or Citadel but don't use paintline 'X' (such as Game Air or Citadel Air) and don't want them appearing in results. Now you can disable them during color matching or while perusing your library. Second, a lot of users have asked to be able to match in color tools across metallics or only their paints. Now that option is there for you.
We are very please to bring such a requested feature finally to life. As always, please reach out to us with any feedback you may have. We love hearing from you!
When we do a big feature release like this and I write a blog post, I like to postulate on what's coming down the pike (other than continued database updates, of course).
Some things we're considering:
Custom paints so users can add their own special mixes or missing bottles
A better manufacturer selection experience, perhaps with reordering
Deals and coupons for paint or related supplies
Paint randomizer and a library stats page
And the perennial favorite, the iOS version. We know, we know :).
Cheers from Texas,
Jeff