New paintRack Back Up System!
What's going on?
Last December, we received an email from Google informing us they were shutting down the Google Drive software development kit (SDK) we use to access Google Drive. No big deal, we thought. We can move to their other one that leverages a technology called REST. However, in reading their deprecation document, they have a passing comment about the app folder.
"Support for storing and syncing in the app data folder will likely be removed from Drive in the future. Clients requiring app data storage are strongly encouraged to migrate to a non-Drive solution such as Cloud Firestore."
We were surprised, of course.
So, Drive access is going to die. The long and short of it is we've switched to using another backup system (Firebase Storage for those who care).
How to use new back up system:
Go to "Settings"
Scroll to "BACK UP DATA TO CLOUD"
Press back up data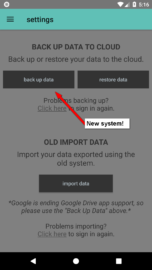 You may notice part of the old back up system is still there so that you are able to import data you have previously exported before the new system. Once you back up once to the new system you can ignore this. A future update will remove the import data button.
Keep in mind, Google is terminating support for the old back up system by December 6, 2019, so we suggest backing up your data today!
Keep on painting!